Welcome to the Tempus Fugit Sea Fishing website
Tempus Fugit, a purpose built sea angling boat based in the idyllic port of Itchenor near Chichester, West Sussex. Some four miles off the A27 Portsmouth to Brighton road.

Tempus Fugit is available for Charter most weekends during the year for fishing around the Selsey and Nab area and occasionally from other south coast harbours. Please see my contact details for further information. The pick up point is at the Itchenor harbour master's pontoon (where Chichester harbour water tours pick up from). We have cop for 20 miles and are licensed for 4 anglers which is ideal for small parties, families and individuals.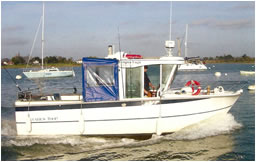 The fishing in the Selsey/nab area is excellent, with summer visitors, the hard fighting Tope, Smoothound, Bass, Rays and Bream. Conger fishing on the wrecks can produce a good fight with some very big fish. Winter fishing for Cod, Whiting and Congers has been very productive for putting fish in the freezer or for that perfect photo opportunity.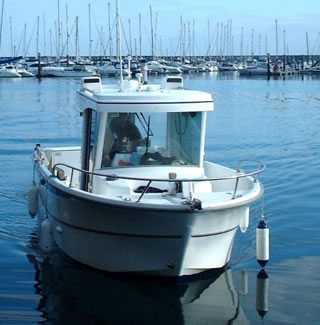 Things you need to bring are water proof clothes, food and drink for the day, hot drinks will be provided. Tackle, when you book your trip Dale will advise which is best on the day or can provide the outfit of your choice.
Bait, a good selection of bait is always best. Dale will be happy to advise you what to bring. Some bait can be provided at cost price with prior notice.
TACKLE -
http://www.gerrysfishing.com
Please feel free to look around the site to see what has been caught and where.

Like or follow us on Facebook

Click here to add Tempus Fugit to your bookmarks
© Mark Ford 2014

Last content update 13/01/2014 07:58
If you can not see the menu on the left because you came from a link, then click the button below

Copyright Information
All images and items contained in this site are owned by myself or there respective owners and are therefore copyrighted. I must inform you that anyone found to be using items from this site without my express permission will be considered as thieves. I will take any action against people who steal from me including passing information on to other users about you on forums and news groups. Take this notice as warning. If you wish to borrow any item email me and ask first.