For all the details, costs and any further information about full Charter or just individual day trips,
please Contact Dale Ford at
Tempus Fugit SeaFishing
Dale Ford
Telephone:- 01903 714144
Mobile:- 07763 469850
Email:-info@tempusfugitseafishing.co.uk
(As you can imagine, trips are weather and boat permitting and may be cancelled at short notice)
Things you need to bring are water proof clothes, food and drink for the day, hot drinks will be provided.
Tackle, when you book your trip Dale will advise which is best on the day or can provide the outfit of your choice.

Bait, a good selection of bait is always best. Dale will be happy to advise you what to bring.
Some bait can be provided at cost price with prior notice.

TACKLE - http://www.gerrysfishing.com
Remember, you could be out having a great day at sea catching fish like these and much more.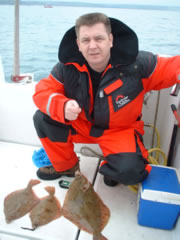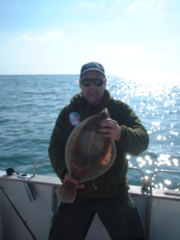 Just a few caught on the Skerries.
What are you waiting for, call today and book your place.....
Last content update 25/10/2011 08:23
If you can not see the menu on the left because you came from a link, then click the button below